FinTech has emerged as the bridge to cross the digital divide for financial services and payment services in light of post-Covid environment.
Consumer behaviors have shifted to adopt more digital payments and transactions
Digital becomes mainstream in the "new normal"
FinTech embrace and harnesses new technology to improve the digital transaction environment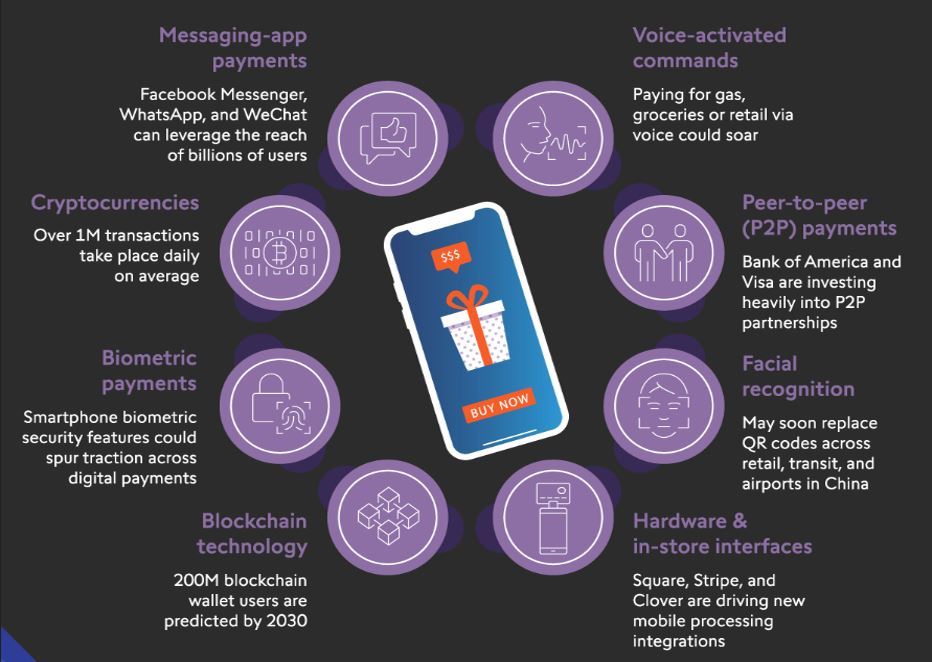 Data Source: Business Insider, Juniper Research, MoneyGram, Bank of America, Statista, TNS, CNBC, Deutsche Bank, European Payment Council
The world as we know it has changed and there are new dynamics at play since Covid-19 came onto the scene. While FinTech has been around for quite some time, its development and application of technology to products and services offered in the financial sector has grown by leaps and bounds within the last few years. Coupled with the recent shift in consumer behaviour to use more contactless payments and digital banking due to the pandemic, FinTech takes on a completely new meaning of how financial transactions is carried out in the post-pandemic environment.
The trend is growing at a rapid pace with more countries adopting digitalization with the likes of Singapore, China, South Korea and Sweden. As more people gain access to reliable high-speed internet and with the convenience of performing tasks while on the move, it only pushes adoption rates higher. The Insurance sector for example, has reaped the rewards by redefining customer experience through innovations such as online insurance purchase and straight through claims processing. Robo-advisers are also gaining traction, while over 1 million cryptocurrency transactions take place on a daily basis.
So what is next for Fintech?
There is still a vast ocean to explore in the realms of technology development as more companies are in the midst of developing disruptive technologies such as Blockchain, Artificial Intelligence (AI) and Internet of Things (IoT). Even though it may still be in their infancy stages, they have already started to make an impact in the world.
Social Media and Lifestyle applications such as WeChat, Facebook and WhatsApp could leverage on their engagements with billions of existing users. Ride-hailing companies Uber, Grab and GoJek also double as digital payment platforms. While the current market shares of alternative lenders, robo-advisers and cryptocurrencies are comparatively small, conventional banks are also building up their digital banking subsidiaries, such as Goldman Sachs' Marcus. Regionally, countries are opening up their digital banking landscape – China, Japan and South Korea already have digital banks while Hong Kong and Taiwan just issued digital banking licenses last year. Closer to home, MAS is currently assessing the applications to the 5 digital bank permits.
5G will be the next revolutionary technology that will catalyse the FinTech sector with its "ultra-low latency" which means zero waiting time for apps to load and making seamless payment transactions. Deployment of 5G may take a few more years but the infrastructure for it is currently underway in the US, Europe and China.
FinTech application has become so integrated into our daily lives that sometimes we may fail to notice its existence and it is apparent these technologies is transforming how financial services and payments are being carried out. As we move ahead into the future, the rise of FinTech will become even more prominent on the world stage with advanced technology, digital demands and consumer behaviour paving the way.
Important information
This article should not be regarded as an offer, recommendation, solicitation or advice to buy or sell any investment product and shall not be transmitted, disclosed, copied or relied upon by any person for whatever purpose. The information provided herein is intended for general circulation only and does not have any regard to your specific investment objectives, financial situation and any of your particular needs. You may wish to seek advice from a financial adviser before making a commitment to purchase any investment products. In the event you choose not to seek advice from a financial adviser, you should consider carefully whether the product(s) are suitable for you.